Bas Cullen
"That must mean you're a smart one, eh boy?"
Original character
Veniczar B. Cullen
Gender
Male
Nationality
Cera
Occupation
Owner of Imperial Transport
Family
Asaga Oakrun (fiancée)
Bas Cullen is a minor character in Sunrider Academy. He is based on Veniczar B. Cullen from the main series.
Cullen is the wealthy, brutish yet generous owner of Imperial Transport, Inc. A close friend of Jay Oakrun during his days as a CEO, Cullen was betrothed to Jay's daughter Asaga. While Asaga was studying at Sunrider Academy, she attempted to hide from him, prompting him to send armed goons to find her. At one point, Asaga and Kayto Shields are cornered, knocked out and taken to a hotel to meet Cullen.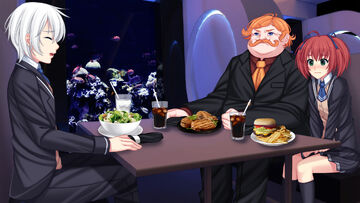 During dinner with the young couple, Cullen reveals that he is engaged to Asaga, whereupon she blurts out that she can't marry him because she is going out with Kayto. Both men are shocked by this statement, and Cullen interrogates Kayto over their relationship. Forced to cover for Asaga, Kayto stares the rotund businessman down. Finally, wanting Asaga to be happy, Cullen jovially agrees to let her go, threatening Kayto with dire retribution if he breaks her heart.
Later, when Jay passes away (in reality faking his own death in order to bring Kayto and Asaga closer together), Cullen offers Asaga a job offworld, which she accepts. Kayto eventually persuades her to stay.
At the end of the game, a tearful Cullen attends the wedding of Kayto and Asaga with his old friend Jay.