Kryska Stares
"Awaiting orders, Sir!"
Gender
Female
Nationality
Neutral Rim
Occupation
Solar Alliance Liaison
Rank
1st Lieutenant (Alliance)
Family

Mother & Father
Kryska Stares is a companion character in Sunrider.
A young 1st lieutenant in the Solar Alliance Fleet, Kryska is the Alliance's liaison officer aboard the Sunrider. As an Alliance citizen and military official, Kryska's presence was generally unwelcome on board the Sunrider. Groomed to be an Alliance officer from childhood, Kryska is fiercely proud of the Alliance and believes it to be the greatest nation on galaxy. Stern and focused, yet optimistic and tomboyish, Kryska is highly idealistic about the Alliance's doctrines, eager to share the Alliance's democratic ideals and technical know-how with the "lesser" nations of the galaxy. The rest of the crew initially eyed her with suspicion, but the Captain is generally appreciative of Kryska and the Alliance's support, and slowly the rest of the crew warmed up to her. She pilots the Paladin, a heavy tank-like limited-production/prototype Ryder specialized in fighting ships. Her English Voice Actress is Cayla Martin and her Japanese Voice Actor is Yumeno Usagi.
Spirit: She firmly believes in virtue, duty, humility and honesty.
Appearance
[
]
At twenty-two years of age by the Solar Alliance Standard-Calendar and standing taller then most women - enough to stand head-to-head with Kayto Shields - Kryska's appearance is both orderly yet tomboyish. Her short, wavy dark indigo-blue hair is styled in a somewhat boyish bob-cut, and her fair skin, honey-gold eyes and young-looking features do nothing to distract from her toned build. She has a modest figure and a well-built body, and while not as feminine-looking as, say, Claude Triello, she is arguably far more physically fit. She tends to have a serious or stoic expression when on-duty, though she is capable of more lighthearted moments and is easily sympathetic to those in need. She is also prone to instances of dry sarcasm in which a small smirk can be seen on her expression.
Kryska's flight uniform is the standard armor-mesh Ryder flight-suit, colored jade-green. After arriving on the Sunrider, she eschews wearing the more common "sailor girl" crew uniform favored by most of the other females on the ship, instead dressing in a Ceran Space Force officer's uniform - a black naval force jacket with gold trim and matching belt, a knee-length black business skirt, black leggings and flat-soled black shoes. Even though Kryska is officially just a liaison with the Sunrider, her rank as an Alliance 1st Lieutenant makes her the highest-ranking military official among the ship's Ryder pilots as she is the only one of them to have actually actively served in the military, effectively making her the ranking officer among the Ryder pilots in spite of having been the most recent addition. Due to no other ranking officers having been seen on the Sunrider thus far aside from Commander and First Officer Ava Crescentia and Captian Kayto Shields, it is possible that Kryska's rank makes her the effective third-in-command of the Sunrider, though only in technicality instead of practice, justifying why Kryska is allowed to wear an Officer's uniform instead of a crewman's uniform. In actual practice though, it is likely Asaga Oakrun - the first Ryder pilot to have actually joined the Sunrider - who serves as official CAG for the Sunrider. Of course, it is also possible that the Officer's uniform is just a formality to reflect her unique status as Alliance liaison
Bio
[
]
Note: (WARNING - Spoilers ahead for the plot of Sunrider: First Arrival, Sunrider: Mask of Arcadius, Sunrider: Liberation Day, Sunrider Academy & Sunrider: The Novelization. . Read at your own risk!!)
Early Life
Kryska's homeworld was located in the independent and, at that point, largely fragmented Neutral Rim, which was then locked in a state of chaos and upheaval in the wake of the New Empire crumbling. Born into a life of poverty, Kryska spent much of her early years living in shared perpetual fear with her parents of their oppressive and corrupt planetary government, as her world was outside the confines and security of the Alliance's laws. Even when forced to give away every scrap of their livelihoods in order to survive under their rulers, they still weren't guaranteed protection against pirates, cutthroats and bandits. While the government certainly invested in secret police and surveillance drones to terrorize and intimidate the population at every turn, they did nothing to defend said populace from criminal extortion or raids.
Eventually though, Kryska, after living her first years in despair and destitution, found her salvation in the form of the Solar Alliance as it made an expansion push into the Neutral Rim, liberating her homeworld from the original government and restructuring it to more humane standards of living. In doing so, an awestruck and overjoyed Kryska was filled with admiration, happiness and two more things else entirely new to her - hope and an overwhelming sense of freedom. In the wake of this, Kryska decided she wanted to spread what she had discovered to other worlds like her own - a desire that would ultimately lead to her leaving her world and family behind to enlist in the Alliance military.
Military Career
After joining with the Alliance navy, Kryska's strong values, hardworking dedication to duty and desire to spread the Alliance's doctrines helped her climb the rankings quickly, spending much of her remaining juvenile and teenage years in military training. Her service record eventually caught the eye of Admiral Harold Grey, one of the highest ranking fleet officers in the Solar Alliance, and became part of his forces, assumedly leading her to something that few in the Alliance had faced at that point - actual full-on combat experience against armed opponents, likely pirates and raiders. Under Admiral Grey's command, Kryska rose further through the standings and eventually reached the rank of 1st Lieutenant by the time she was twenty-two, possibly becoming an Alliance CAG in the interim.
At some point during this, she was assumedly inducted into an Alliance's Black-Operations division founded by the Admiral to protect the Alliance from behind the scenes - something that a soldier as loyal and devoted as Kryska would be ideal for. She was not only given advanced training in Ryder piloting but in wet-work and infiltration, likely in preparation for an impending war against the expansive Neutral Rim superpower PACT. When official war finally broke out between PACT and the Alliance, Kryska was assigned an experimental, limited-production heavy-assault Ryder - the Paladin, which was designed to match and take down battleships single-handedly. She was also selected by Admiral Grey to serve as the official liaison to an independent vessel that had taken pivotal roles in multiple engagements against PACT - the assault-carrier Sunrider, last ship of the now-defunct Cera Space Force. She was given orders both to advise the Sunirder on Alliance interests and missions and, if needed, acquire information on the vessel and crew as it was not an Alliance ship and thus a potentially unpredictable asset. To this effect, she was given a falsified service record to act as a cover, claiming her as simply being an Alliance CAG.
First Arrival
[
]
Representing the Alliance
Kryska arrived aboard the Sunrider prior to the imminent PACT attack on the world of Far Port, which would become the first battle of the Alliance-PACT War. Greeted by Captain Kayto Shields and First Officer Ava Crescentia, she promptly stands at attention before her new immediate superior after exiting her new Ryder. In the Sunrider Novel, she is shown instantly forming a mutual respect with Ava due to their shared professionalism and sense of military discipline, before explaining the benefits of her Ryder to Captain Shields after a short introduction of herself and a debrief of the details for her assignment. Kryska promptly provides her service record, establishing herself as being from New Seattle on Luna and formally being the CAG (Commander of Air Group) of the Alliance carrier Montesquieu. After finishing with the formalities, Kryska is escorted to the crew quarters by Ava to get settled in.
However, Kryska's introduction to the other members of the crew is not quite so smooth as her initial meeting with the Captain and First Officer. Upon reviewing the statistics of her comrade's Ryders in order to familiarize herself with her new allies' capabilities, she discovered a number of illegal modifications on, presumably, most of them - but the one that stuck out the most to her was those of Icari Isidolde's Ryder, the Phoenix, violating over fourteen Alliance safety regulations. Kryska promptly confronts Icari about this, sparking an argument as the two prideful pilots debate back and forth on the safety concerns and potential benefits of the Phoenix's modifications. Eventually, the Captain is called down over the disturbance, with Kryska claiming that the Phoenix is a safety hazard to the crew and to the other Ryders in combat, while Icari simply states that the only issue is the personal one Kryska has with Icari for bypassing the Alliance's "red tape."
Icari then explains to Kayto that Kryska is primarily upset over how her Phoenix uses Heratium exhaust vents instead of the standardized Karium, citing that Heratium is stronger, lighter and cheeper. Kryska counters by stating her concerns are because Heratium is far more dangerous to use as, if it is broken, Heratium shatters into thousands of razor-sharp shrapnel shards that can shred not only the Ryder using it but any others alongside it, while Karium splinters into harmless filamentous tangles. Therefore, Kryska claims the Phoenix is a safety hazard as it could become an effective time-bomb in the midst of their battle-formations if hit in the wrong place, while Icari retorts that she has used Heratium all her life and is still alive to prove that it's not fatal to use if one knows how to handle it or, quite simply, is smart or skilled enough not to be shot. Icari also goes a step farther by claiming that the real reason it is outlawed is because the Karium Lobby forced a legislation through the Solar Congress, having a large portion of the senators in their pocket to make the Alliance dependent on their product - not only denouncing Karium as being inferior and obsolete but indirectly claiming the Alliance of corruption. Icari claims the Alliance is censoring people's right to buy and use resources at their discretion, while Kryska furiously accuses Icari of jeopardizing the ship and crew for the sake of her ego. Ultimately, Kayto is forced to resolve the situation himself, as neither pilot is willing to back down.

Trust Issues
The situation of Kryska's reputation among the crew would not be improved by her debacle with Icari - but worse still the fact that the Alliance's doctoring of her records were not as spotless as Kryska had believed, as Ava noticed discrepancies in Kryska's service dates with those of the supposed Alliance carrier "Montesquieu" and had the ship's chief engineer, Chigara Lynn Ashada, analyze them. The results led Ava to the conclusion that the Montesquieu didn't actually exist and that Kryska was an Alliance Black-Ops sent to observe them under Admiral Grey's orders - something that Chigara would inadvertently let slip to her best friend and fellow Ryder pilot Asaga Oakrun. Asaga would then go on to leak the news to most of the ship, making the majority of the crew distrustful of Kryska - likely to the latter's chagrin - and Asaga also ended up drawing more attention on her by trying to rather blatantly spy on Kryska in the Sunrider's C.I.C with Chigara during the planning phase of their defense of Far Port. Ultimately, Kayto caught the pair in the act, and Ava briefly left the tactical screen to discipline Asaga for the latter's breach of conduct.
In spite of the distrust among the ship, Kayto still holds his joint briefing with Ava and Kryska regarding their state of affairs at Far Port, with Kryska informing Kayto that the Alliance First Fleet, the closest to their position, won't arrive for nearly two days, and that as a result they must perform the impossible; hold the line at Far Port lest the PACT fleet pour over five Alliance worlds and cause severe damage to their forces. Ava suggests hit-and-run tactics, but Kryska refuses the idea by stating that large elements of the fleet, if not the entirety of it, might just bypass them immediately if they don't have a solid defensive line to stop them. Stymied, Kayto orders Ava and Kryska to keep working on it and analyze every tactic to find something they can use.
However, during a lull in the planning stages, Kryska takes the opportunity to sneak down to the Sunrider's engineering deck, planting a data-copier on one of the engine terminals to try and download the ship's maintenance logs, warp calculations, notes of it's modifications and all recent schematics from the secure data-buffers. Unknown to her though, she is caught by Chigara's security cameras and promptly confronted by her and Icari, with Chigara analyzing the device Kryska has attached to the console while Icari restrains Kryska herself - at gunpoint in the Novelization, pressing a firearm to Kryska's skull and threatening to pull the trigger if the Lieutenant tries anything. Kryska simply addresses and acknowledges the pair coldly, not allowing any hints of emotion to be shown even as Kayto and Ava arrive to discern what has happened. Kryska, ever-professional, sticks to her cover and professes she was simply running a diagnostics scan on the ship's specifications to better plan their battle strategy with, but Chigara ultimately confirms Icari's suspicions of subterfuge by identifying the device Kryska hooked to the console as a data-copier. Icari promptly demands that Kryska be thrown into the brig, with the decision on what to do falling to Kayto. However, before any real actions can be taken, the PACT invasion fleet arrives at Far Port, forcing the issue to be shelved until after the battle is over - provided any of them are still alive at the end of it.

War Makes Strange Bedfellows
As the PACT invasion fleets bare down on the Alliance Second Fleet, Kayto takes a moment to reaffirm Kryska's loyalty by informing her that, regardless of whatever standing orders the Alliance have given her, she is under his direct command now and has been given assurances from her superiors that she will follow his orders to the letter. Kryska acknowledges this without hesitation, as shown when she unflinchingly complies with Kayto's borderline-suicidal plan to charge straight at the PACT fleet and attempt to wipe out their command ships at knife-fight range in order to throw the enemy into disarray, crippling and effectively stranding the PACT forces at Far Port until the Alliance reinforcements arrive.
The battle becomes heated in very short order, with Kryska taking the Paladin into it's first true battle against enemy warships and proving invaluable as it's heavy weapons pummel the opposition, supported closely by Icari's more nimble Phoenix to provide anti-Ryder and anti-missile support. In the Novelization, their cooperation is expanded upon further as, after taking out a PACT cruiser, Kryska's Ryder is designated a primary target by over two-dozen PACT Mooks and a PACT Battleship. Icari tows the Paladin as best she can to try and avoid the Ryders while Kryska soaks up fire from the battlecruiser to keep Icari safe. During their dogged battle with the PACT forces, Kryska denotes a refusal to lose, intending to gun down every PACT enemy in sight while Icari sarcastically laments how she never imagined fighting a war with the likes of Kryska at her side.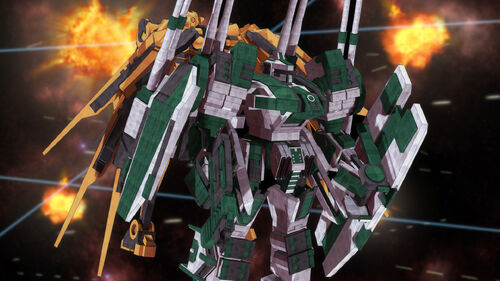 After a shot from the PACT dreadnought Legion cripples the Alliance force by firing through some of it's own ships and the PACT armada's own commander is dispatched by Asaga, Kayto gives the order to pull back and enact Ava's strategy of hit-and-runs now that the invasion fleet is in disarray and effectively marooned at Far Port. Kryska then notes as the retreat order is given that the Alliance has finally arrived to reinforce them and let the damaged ships of the Second Fleet pull back to safety. In the Novelization, Kryska and Icari are the last to return to the Sunrider, with the Paladin badly damaged by laser fire from battlecruisers with much of it's armor scorched, forcing the Phoenix to use tow-cables to help increase the heavy Ryder's speed and rush back to the ship before they pull out. Kryska urges Icari to save herself before the Sunrider is forced to pull out without either of them, following the Alliance standard of sacrificing one life to save another - but Icari stubbornly refuses to leave behind anyone who's fought alongside her, even a spy like Kryska. Icari ultimately comes close to overloading the Phoenix's reactor, causing it's unstable Heratium exhaust ports to be blown clean off the Ryder's back and explode into thousands of sharp shards, shredding the pursuing PACT Ryders but sending the Phoenix, and by extension the Paladin, crashing uncontrollably into the Sunrider's hangar. Kryska is then forced to gun the Paladin's thrusters and pull off the impressive feat of making the heavy tank-like Ryder flip around despite it's damaged state and overall bulk and reverse momentum enough to pull off a controlled crash against the far wall of the Sunrider's hangar bay, catching the Phoenix before the far more fragile Ryder can crash headlong into the bulkheads. Given the weaker armor of the Phoenix, this crash could potentially have resulted in Icari's death had Kryska not caught her.
In the aftermath of the grueling battle, Kryska is the first to try and make an effort toward repairing faith in her among Icari and the other Ryder pilots, complimenting Icari's skills and proudly stating that it was a pleasure to fight alongside her. Icari in turn begrudgingly admits that Kryska is a skilled pilot as well, but takes note of Kryska calling her "Ms. Isidolde" and promptly asks to instead be addressed as "Icari", citing she never was found of military titles or rankings, least of all among comrades. Kryska agrees, then delivers an apology to Kayto and the crew of the Sunrider as the Captain and Ava enter the hangar bay, denoting that, now that the immediate situation is over, she fully expects to be escorted to the brig for her earlier act of subterfuge in trying to steal data from the Sunrider's computers. However, to her surprise and happiness, Kayto brushes the matter off and hands her a copy of all their data himself, citing that they are a team now and need to work together as such, advising Kryska to simply ask him up-front the next time she needs information, which Kryska accepts. Icari, putting up a begrudging front, tries to state that their new status as comrades doesn't make them friends, but fellow Ryder pilot and acting doctor Claude Triello takes note of the fact that Icari is blushing, suggesting that Icari might be developing feelings for Kryska. Icari is left angered and mortified by the the suggestion while Kryska simply brushes Claude's teasing off, seeming happy at finally being accepted among the Sunrider's patchwork family of misfits.
Mask of Arcadius
[
]
Kryska returns as a companion character in Sunrider: Mask of Arcadius, where her backstory is expanded upon with the reveal of her past and her reasons for why she joined the Alliance and has such faith in them.

Shore Leave - Compliments of the Alliance
When the Sunrider is allowed an extended shore-leave by the Alliance, Kryska and the other Ryder pilots take the chance to rest and relax at the Lydia Resort Station as reward for their efforts in the war. Unlike Ava though, who is on the verge of a breakdown from the lack of work, Kryska - now wearing navy-on-white swim-shorts and a halter-top resembling a sports bra - is able to genuinely let herself be at ease when off-duty, joining in lighthearted quips with the rest of the crew - most prominent being Claude's teasing of Icari's sexual confidence when comparing the mercenary's body to the doctor's. Kryska denotes that if Icari had some "more armor" to her, she wouldn't have to feel intimidated by Claude's measurements, but Icari shoots back that Kryska's body lacks any femininity to begin with - going as far as to say she could be mistaken for a space-whale as she has more body or muscle-tone then she does curves - causing the prideful soldier to react violently. Taking only a brief moment to ask Ava for permission to engage Icari before the mercenary's taunting gets to her, Kryska starts chasing after Icari and eventually gets into a grappling match with her, sparing physically as well as verbally about the merits of speed or armor being superior to one or the other - with it being questionable whether they are talking about their Ryders or their own physiques. This chaos contributes partly to Ava snapping and running away in a blind panic.
After her impromptu sparring match with Icari is over, Kryska takes the chance to relax more properly by engaging in small-talk with the other members of the crew. She asks whether life on a mixed-sex ship is difficult, revealing that all her own subordinates and superior officers were female because the Alliance segregates their crews into single-sex contingents; every crew-member on a ship is either one gender or the other with no cross-betweens. Kryska states it was done to improve discipline by reducing the risk of fraternization, but when Claude asks if it actually works out that way, Kryska declines to answer and instead gives a wry smile that seems to imply otherwise. Asaga, seeming uncomfortable with the direction of the conversation, shifts the topic to note how impressed she is with the size of the resort station, with Kryska rather pridefully accrediting the station's expansiveness to Alliance advancement - something that irritates Icari in the Novel, wondering if Kryska is payed to endorse the Alliance like this or if she really chooses to do so.
After Kayto returns with a reluctant Ava in tow and goes to check on Kryska, she is at that point embroiled in yet another debate with Icari - this time regarding their kill-counts at the Battle of Far Port. Kryska, while having only shot down six PACT Mook's, had downed at least three carriers - each containing a hundred Ryders - and claims this gives her the superior kill-count, while Icari rebukes that since those Ryders weren't actively participating yet and still on standby inside the carriers that they don't count. Kryska however shoots back that Icari spent most of the battle hiding behind the shield of Kryska's Paladin, angering Icari and prompting her to state she refuses to accept Kryska as a friend, while Kryska retorts that Icari is a danger to herself and the crew - likely referring to the detonation of the Phoenix's Heratium vents during the prior battle, having proven Kryska's claim that the vents can cause severe damage if they shatter.
Icari rebukes that at the very least there isn't a chance that she would betray the crew to the Alliance and Admiral Grey if forced to pick between them, while Kryska protests that the Admiral is honorable and would never do such a thing unless he had to do it for the good of all humanity. Icari scoffs at the claim of Grey's integrity being impenetrable due to her having been one of the Admiral's retainers, further aggravating Kryska as the Lieutenant refuses to allow the Admiral's name to be criticized by a mercenary who wouldn't understand honor, while Icari states that she doesn't need the Lieutenant's honor as the only power that matters in the world - for everyone - is money. Kayto is forced to try and pacify the pair, but they remain at odds with each-other's views. Later, Kryska accompanies a somewhat-intoxicated Icari to the grill, seeming to act as insurance in case the partly-impaired mercenary causes a ruckus and apologizing to Kayto for Icari's behavior, much to the latter's annoyance.
After the beachside grill, the crew retires to the cabins for the night, with Kryska being somewhat repulsed by the idea of strip-poker, finding it indecent - especially when the suggested prizes were sleeping in the Captain's bed with him or running around the cabin naked. However, after Icari once again questions Kryska's femininity and accuses her of being afraid of getting seen naked because of an insecurity, the Alliance Liaison flies into an indignant rage once more. In the Novel, she shortly requests permission from Ava to engage and, after the commander is distracted by alcohol in an attempt to drown out the chaos around her, Kryska's pride gets the better of her and she agrees to play the game of strip-poker against Asaga, Icari and Claude. After Ava becomes heavily intoxicated and begins raving at length about Kayto being a womanizer in his school days, Kryska takes concern over her superior's state and tries to ease Ava away from drinking herself any further into a stupor, though Ava refuses, claiming she doesn't feel anything, and while that only makes Kryska worry more, she ultimately complies with her superior's demand. Later on, Kryska stumbles upon most of the Ryder pilots in the bushes with a drunken Ava, seeming to realize that the Commander was the victim of subterfuge by Icari and Claude - and expressing shock when seeing Chigara try to get close to Kayto because of it - before enforcing Ava's order for them all to turn in, escorting them all back inside the cabin. The next day, Kryska promptly gathers the Ryder pilots up at Ava's orders as their shore-leave officially comes to an end, leaving to return to the war front.

Return to Duty
After returning to the war, the Sunrider takes place in several missions across the rim-worlds - including taking out a PACT resupply depot at Versta and a mission to Tydaria to wipe out a pirate nest that has replaced the power vacuum left by the absence of Cosette Cosmos, who had been ousted from the system by the Sunrider prior to Kryska joining the ship. However, their most challenging of these missions comes from a search and rescue mission to Far Port's moon, coming under fire from a fleet of automated Ryuvian ships from a long-abandoned base - along with a trio of well-maintained and very lethal automated Ryuvian Ryders.
In the Novelization, Kryska plays a large role in destroying one of the three Ryuvian Ryders, charging up behind one while it is pinned down by Icari's Phoenix in a desperate grapple-lock against the more powerful unit. Anchoring her Paladin to the Ryuvian Ryder's back, Kryska fires the Paladin's cannons into it's rear-armor at point-blank range, requiring what seems close to two full salvoes of shots before the unit finally goes dead. All throughout, Icari is left panicking in the background at the prospect that the Paladin's shots may through the Ryuvian machine and core the Phoenix as well. After the machine falls inactive when it's A.I. core is punctured, Kryska thus allows herself a moment of smugness at having saved Icari's life, having now returned the favor for the latter's rescue of her at Far Port and offering to tow the damaged Phoenix back to the Sunrider for repairs - much to Icari's irritation - as the rest of the crew finishes with the other two Ryuvian Ryders.
Some time after this mission, Kryska receives a communication from Admiral Grey requesting the Sunrider rendezvous with him at the Neutral Rim world of Ongess, wishing to tour the ship personally and inform Kayto of his next mission for the crew. Reporting to Kayto, Kryska informs the Captain of the details, staying present until Kayto belatedly realizes she's awaiting formal dismissal, the Alliance pilot having not yet entirely acclimated to the more comparatively-casual atmosphere on the vessel. Afterwords, as the Sunrider arrives at Ongess, Kryska serves as the effective go-to for the Sunrider's crew with the Alliance forces, the pilots following her lead in greeting Admiral Grey to the Sunrider with Kryska informing the Admiral that she feels privileged and honored to have served with the ship thus far. The tour comes across as very satisfactory, with Grey telling Kryska to take good care of Kayto for the sake of the Alliance, which Kryska energetically affirms. However, before Grey can properly leave the ship, they are forced into emergency alert as detonations rock the nearby Alliance supply station - a guerrilla bombing staged by Cosette Cosmos. Kryska ensures the Admiral's safety as Kayto confirms the events of Cosette's attack, before being told frankly by the Admiral that the reason the Sunrider is here is because Cosette is to be removed as an issue - permanently - and Kayto will be the one to do it.

Mission of Mercy
Several days later, as the ship works to try and track down Cosette, Kryska takes the chance to speak with Kayto after hearing rumors among the crew that he has concerns about the Alliance's motivations in the Neutral Rim, since the Alliance has all but outright stated they have claimed Ongess. Deciding to try and show Kayto first-hand that the Alliance's intentions are genuinely pure, she contacts Admiral Grey and gets permission to have unrestricted access to one of the Alliance's relief camps on the Ongessian orbital colonies, convinced that doing so will assuage Kayto's potential doubts. After arriving at the colony - habitat P4X-684 - Kryska shows Kayto the extreme state of disrepair and destitution the area is in, ranging from sub-par living conditions to borderline uninhabitable. Kryska explains that the station was originally meant for around 10,000 workers and the orbital refineries they would manage, but that during the Empire's time the population was expanded far beyond what it was meant to accommodate, now housing roughly half a million people. Kryska then stuns Kayto by revealing that the station was supposedly in a worse state before the Alliance installed new air-purifiers and began clean-up and relief efforts.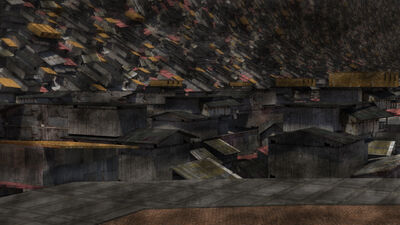 As she continues leading Kayto through their tour of the Alliance's relief efforts, Kryska explains that the situation for food and medicine has been just as grim, and even clean water is a luxury for the people here, and that they are still struggling to keep up with the demand in spite of having dozens of the Alliance's relief vessels coming day in and day out. Decades of mining Ongessite ore without proper protection have spread toxic chemicals and waste across the populations and immunizations are all but nonexistent, allowing diseases extinct in the rest of the galaxy to run rampant on Ongess. Kryska denotes that over fifty metric tons of fresh food and over a hundred metric tons of clean water have been dispensed in the past few days, with a medical cruiser treating the sick and four more being taken off the front lines of the war itself to help with the relief efforts, along with setting up purification stations and organizing neighborhood patrols. Kryska claims that the Alliance are a just cause trying to restore a sense of equality to the people of Ongess by driving out those that would take advantage of them like Cosette, and protecting them from tyrants like those controlling PACT, proudly proclaiming that that the Alliance's compassion and technological advancement will restore Ongess and make it a template for how it will better the rest of the galaxy.
Kayto however still shows some reluctance to place full faith in the Alliance, asking if Kryska truly believes the Alliance will remain as just as she claims, and Kryska, giving a small but genuine smile, asks Kayto if he wishes to know the truth about her past, revealing a moment later that her true birthplace was in the Neutral Rim on a world that was dominated by a vicious dictatorship. Recounting how her world's leaders demanded their livelihoods as payment just to live, yet left them to fend for themselves from whatever pirates chanced upon them, Kryska explains that she saw first-hand what corruption and dictatorship can do to people, and that the Alliance showed her something better when they liberated her world. Ever since then, she has had a desire to share what she'd seen and felt that day - freedom and hope - to the rest of the galaxy, hence her subsequent enlistment in the Alliance navy. Kryska then pridefully states that the Alliance is and has been an unequivocal force of good since the day it was founded, meant to spread the belief that every man, woman and child deserves the right to equal freedom, equal opportunity and equal treatment - the same virtues that led it to triumph against the New Empire, declaring them a "universal truth."
As Kryska speaks, a young girl approaches behind her, with Kryska kindly introducing herself and Kayto before asking what the child's name is. The girl, introducing herself as Kyoko, notes absentmindedly that her name starts with the same letter as Kayto and Kryska's do. Asking if they were "star people" who came from the sky, Kyoko almost desperately asks for them to take her off the station - something that, in the Novelization, causes Kryska to tear up slightly as it likely reminds her of the state she herself had once been in on her own homeworld. Kryska asks if Kayto wishes to see more, but Kayto refuses, asking to be led back to the camp. Kryska denotes that, while a long way off, the Alliance's help may one day help Ongess's populace live decent, normal lives, with the process likely to speed up after the war with PACT is over. Kryska further denotes that she joined up with the Alliance precisely for the reason that she feels it is for the betterment of mankind.

Harsh Realities
As Kryska and Kayto reach the end of their discussion on the merits of the Alliance's actions, the area around the relief camp is suddenly accosted by explosions, including one at Kayto and Kryska's position, flooring them as they are surrounded by armored men with automatic weapons - members of Cosette's pirate gang. They quickly disarm and restrain Kryska and Kayto, before Cosette herself arrives to greet them - with Kyoko at her side, revealing to the shell-shocked Kryska that the very girl she'd offered sympathy to had sold her out in exchange for some coins, rubbing it in for Kayto and Kryska how little the Alliance's actions matter to Ongess people since they'd accept aid from anyone that can deliver it, regardless of creed or claim to decency. Kayto is knocked out by one of the gunmen before Kryska's eyes as the Lieutenant helplessly calls out to him in concern, before both she and the unconscious Kayto are hauled away by the armed pirates.
After being dragged into a cell at Cosette's makeshift base, Kryska is thrown in with the Captain to be held until Cosette figures out whether to ransom them back to the Alliance or just execute them as a message to stay away. In the Novelization, Kryska is forced to watch as Kayto's unconscious form is beaten by Cosette's men - Cosette's method of exacting revenge for Kayto having ousted her from Tyderia, for humiliating her repeatedly and for killing so many of her men during their past encounters. When Kayto eventually regains consciousness, Kryska is overjoyed and relieved to see he had not in fact been beaten to death by Cosette's pirates, apologizing for their current situation and cursing to herself as she laments how this particular habitat was supposed to have been cleared and that the misinformation has reflected badly on her. Kayto however reminds her that with half a million people aboard it would be easy for Cosette to hide out among them - after all, as Kyoko proved earlier, the Ongessian's loyalty is to whoever provides instant gratification for their wants, instead of whether one side has purer intentions then the other. Shortly after, a guard comes by, demanding Kayto come with him. Kayto tries to reassure Kryska as he is taken away that Cosette wants them alive for now, as she would have killed them already if she didn't.
Unwilling to remain helpless and feeling guilty for having dragged Kayto into this situation, Kryska uses a cement chip from the cell to cut her bindings - an act that, in the Novelization, causes multiple cuts to her own hands in the process. Sometime later, Kayto is once again tossed back into the cell in the aftermath of his "audience" with Cosette, where he sees what Kryska has done to free herself and tries once again to reassure her by reminding her the Alliance will try to rescue them. Kryska however brushes the reassurance aside and apologizes to Kayto for having gotten him captured by bringing him to the habitat in the first place. Moments later, the guard returns to the cell, this time demanding the Kryska come to see Cosette. Kryska complies briefly, telling Kayto that she will be fine and can handle it, before stepping in line with the guard - then swiftly springing into action and using her severed bindings as a makeshift garroting wire to, in a brief but brutal CQC attack, snap the guard's neck before helping Kayto to his feet, denoting that they will escape here and now.

Jailbreak
In the Novelization, Kryska carries the half-beaten Kayto through the base, dispatching two guards with the brutal efficiency expected of a Spec-Ops soldier. Unfortunately, the pirates quickly realize the pair have escaped and track them down, with Cosette at the lead. Cornered once again and vastly outgunned, Kryska tosses her pistol aside in order to keep the pirates from shooting the prone and defenseless Kayto. Cosette, ignoring Kayto's pleas to stop fighting them, takes the time to correct Kayto on his prior assumption - while she does in fact intend to keep them alive, that is all she really needs from them; they do not in fact have to be completely intact. Ordering two of her men to hold Kryska down, Cosette pulls out her knife, intending to slice off Kryska's legs bit by bit as payback for the Alliance Lieutenant having murdered her men. In the Novel, it's revealed this is the one time thus far that Kryska's composure cracks as she starts to shed tears of bitter frustration and fear of having her limbs dissected and being unable to do anything about it, one of the guards clamping a gloved hand over her mouth to keep Kryska from trying to bite anyone in desperation. This in turn marks the first time Kryska has ever been truly helpless since her childhood against pirates.
However, before Cosette can begin cutting into Kryska's leg at the knee, the guards restraining her are shot dead as Alliance marines storm the area in a straightforward and blunt raid to rescue Kryska and Kayto. Reassuring Kayto that she is unharmed, Kryska swiftly recovers, burying her prior moment of weakness as she takes up a weapon and starts aiding the marines in taking out Cosette's forces in a run-and-gun escape from the pirate's followers, killing them without mercy or hesitation. Kryska then returns focus toward getting Kayto back to his feet - just in time for both to witness the young girl from before, Kyoko, be gunned down by an Alliance marine after she picked up Cosette's fallen knife, the soldier mistakingly assuming Kyoko to be one of Cosette's followers. What Kryska's reaction to the death is never shown, but she seems to push it aside in favor of trying to save Kayto, even as the latter flails in panic at the child's death. Ultimately, overcome by the battle around him and his injuries catching up to him, Kayto passes out, forcing Kryska to carry him back to the shuttle as the marines pull out.
After the pair are successfully evacuated from Ongess, Kryska begins apologizing once again for having brought Kayto to the colony as it did nothing but cause him heartache instead of giving him the clarity she had hoped it would. Kayto however disagrees, citing that it indeed showed him something he needed to see regarding what has to be done and about his course in the war (NOTE - In the Sunrider Novelization, this event is strikingly different in that it takes place aboard the shuttle off of Ongess, while in the original story of the VN this scene took place after their rescue back on the Sunrider in Kayto's cabin). In the Novel, Kayto forces Kryska to answer hard questions about the Alliance's motivations, denoting that no matter how fair the trade is for the Ongessians that they didn't really choose to have the Alliance set up shop on their world. He also states that Cosette is at the very least right about how, if not for the fact that Ongess' ore and location on the trade-map is so valuable, the Alliance wouldn't have bothered coming or in investing so much effort, leaving unconformable questions that Kryska isn't able to immediately answer. However, regardless of it, Kryska acknowledges Cosette as being half the problem herself as the chaos the pirate is causing does absolutely nothing to help the situation or mend any goodwill, vowing to take Cosette down herself if she gets the chance.

Soldiering On
Promptly returning to duty aboard the Sunrider, Kryska is quickly confronted by Icari and Claude for details regarding her capture at Cosette's hands, with Kryska becoming somewhat defensive, still feeling guilty for how the intended survey had ended up. At first, she claimed it was over a dozen gunmen, but when pressured by Icari she instead claims it was at least forty - though this is likely counting Cosette's total forces as opposed to how many had actually been present in the group that initially captured Kryska and Kayto. Icari jumps on the discrepancy in the count, with a flustered Kryska shooting back that the chaos she was in made it hard to remember every detail as she had more pressing concerns on her mind, likely including the Captain's health and safety. Kayto remarks on the two's bickering, prompting Kryska to lay the blame on Icari's feet by claiming the latter started it. Icari shoots back that it wasn't her fault Kryska got captured and thus shouldn't have to blame her at all - only for Claude to then rather pointedly note that Icari had apparently started crying when she heard they were captured and broke into the armory trying to get weapons together for a rescue, requiring six guards to finally stop her from doing so. Icari, flustered and half-panicked by Claude's ousting of her, pulls away with the pretense of needing to check the Phoenix, while Kayto bemusedly notes how she always tries to play things cool. Kryska takes the opportunity to apologize for the disturbance, though still insists it was Icari's behavior that sparked it.
A week after their capture and rescue from Ongess, Kryska takes part with the other Sunrider pilots in the Second Battle of Ongess as Veniczar B. Fontana launches a daring move to try and take down the Sunrider, the Alliance Combined Fleet and their supply stations as well as retaking Ongess and capturing Asaga all in one strike. Having Cosette pull together the single largest pirate force the Alliance has ever faced, Fontana uses these ships and his own as part of a massive ruse to give Cosette a chance at destroying the orbital stations, focusing his own attention on keeping the Sunrider's forces occupied. Outmaneuvered by Fontana, it is only by the intervention of Admiral Grey in effectively holding Ongess itself hostage that the PACT and pirate forces are driven back and Cosette is ultimately ousted, quashing the spread of rebellion and chaos on the planet and ensuring the Alliance's hold on the system. While it is not confirmed, it is possible that Grey's tactics of threatening to bomb the planet and everyone on it just to drive PACT away may potentially have damaged Kryska's faith in both him and the Alliance's moral integrity, as Grey had essentially confirmed Cosette's accusations by treating Ongess' people as a bargaining chip to secure victory. Of course, Kryska may also have resolved that there was no choice, believing the Admiral would never have actually gone through with it and that it was only a bluff to scare Fontana into retreat.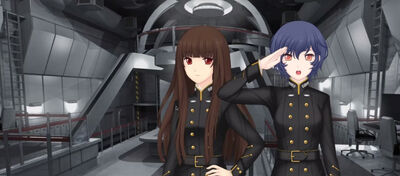 Kyrska latter would take place in a mission from the Mining Union to escort a frigate through an entire PACT armada, with the Union never revealing what was even inside the shuttle. Afterword, the ship resumed it's hunt for the fleeing Cosette, with many aboard - Kryska included - intent on finishing the job after Ongess. However, their searching turns up something else - the Legion, flagship of the PACT fleet, stationed far from the theater of war at the remote Helion system. Working on the assumption that Cosette might have gone to the remote world to hide and recuperate, as well as the belief that the Legion would not be in a system so far from the war-front unless there was something important there, the Sunrider makes for Helion. Kryska also promptly contacts Admiral Grey and informs him of their plans, receiving conformation of support arriving within the next forty-five hours in case the search proves fruitful.
However, during their stealth run of the system - in which they find the Legion guarding a massive superstructure - they are detected through unknown means and confronted by Cosette and Fontana's forces, prompting them to make a running retreat to avoid being overwhelmed and killed. In the Novelization, the ship is forced to travel through Helion's corona at a dangerously close angle, risking overheating and radiation exposure to try and use Helion's flares to scramble the missile targeting systems of the oncoming vessels. In order to makes sure the Sunrider can escape the hail of attacks, Asaga proposes the ludicrous move of anchoring the Ryders to the Sunrider's dorsal hull and using the ship as protection from Helion's corona so that they can add to the ship's flak guns and ensure no missiles impact the fleeing ship. While initially hesitant, Kayto approves the plan, with all Ryders making a relatively smooth transition - save Claude, whom Kryska is forced to save lest the faux-doctor be killed by the radiation wake.
But despite the best efforts of the crew - especially Sola, who is left exhausted and unconscious after a risky and suicidal move shake off a pursuing squad of PACT Elites that use the Sunrider's own wake to close the gap - the Legion is able to severely damage the Sunrider before it finally manages to warp out, sustaining heavy damage with many crew-members injured; the Captain included, narrowly saved in surgery by Claude.

Tipping Point
After the Sunrider is repaired enough to reach operational status, Kayto announces the ship's new primary objective - sink the Legion and take down the PACT's superstructure, now known to be a Black Hole Generator called a Paradox Core that can wipe out whole systems in an instant. Kayto gives the crew a heartfelt and rousing speech to emphasize their bonds to each-other and of the goal of being able to return home one day, to which Kryska, brimming with pride and happiness to serve under Kayto on the Sunrider, proudly gives a salute to the Captain from the hangar bay, ready and willing to fight and die at his side.
However, their enthusiasm fades to dread and anxious determination as they finally face the Legion in actual battle, grinding against the many ships and Ryders escorting it to try and attack the behemoth vessel. Kryska informs Kayto that several Machivelli-Class Alliance Dreadnoughts have been retrofitted with retooled spinal-mounted kinetic cannons, modeled after the Legion's own central cannon but with physical shots to pierce the dreadnought's shields. Coordinating with the Alliance forces, the Sunrider and it's Ryder squadron manage to weaken many of the Legion's exterior defenses, but it's armor refuses to give, forcing the Sunrider into a direct confrontation with the monstrous vessel.
After the Sunrider's forces finally reach the Paradox Core, they come face to face with Veniczar S. Arcadius himself, who reveals himself to actually be a collective consciousness of multiple individuals linked through shared minds. The Arcadius', piloting PACT-made replicas of the Ryuvian Nightmare-Class Ryder the Sunrider crew had faced at Far Port's moon, engaged the Sunrider's forces in a grueling battle as Asaga led Kryska and the crew in the push against PACT's tyrannical leader. Ultimately, they are able to overcome and defeat Arcadius' many selves, but not before the mad leader attempts to detonate the Paradox Core and kill everyone in the system - his own forces included. However, in a shocking act of betrayal for Kryska and the Alliance forces watching, Fontana turns on Arcadius, disillusioned by the former's attempt to throw away the lives of the fleet protecting him just to strike at his enemies. He then unmasks Arcadius as a fake who claimed the original's name and position as PACT leader and exposes him as a race of "Prototype" superhumans who were born at Diode and were responsible for it's destruction, before promptly lynching "Arcadius" with a public execution.
Liberation Day
[
]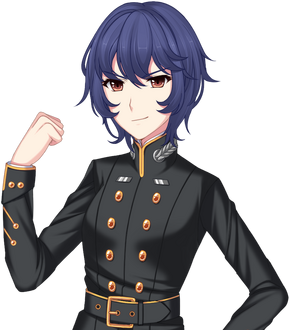 Kryska has been confirmed to return as a companion character in Sunrider: Liberation Day. It has been revealed that, in the wake of Arcadius's lynching at Fontana's hands, the PACT fleet has broken and retreated from Helion, abandoning the Paradox Core to the Alliance.
(WARNING: The events listed here are taken from the Liberation Day BETA, and are thus subject to change during production until the final product is released. Canonicity is not guaranteed as this may be only one of several paths the game may take - as of now, this is the only one known.)
In the Beta, Kryska again reaffirms her belief that, despite their differences, Icari is a good person at heart and a decent wing-mate - though she does so in the Sunrider's showers, momentarily mortifying Icari at how casual the Alliance Lieutenant is about sharing a bathroom with someone. Kryska states her firm belief that, between Arcadius' lynching and exposure as a near-literal monster and the loss of a large portion of their forces, PACT's surrender seems a certainty, though Icari remains skeptical that the enemy will give up so easily, divided or not. However, Icari does admit that she believes Kryska did well in the battle, even going as far as to thank her for being her comrade. Shaking hands, Kryska promises to share a round of drinks with Icari after the war's end - and also smugly denotes that she is called the "Stonewall" for more then one reason, stating she hopes Icari's ability to hold down drinks is not as weak as her Ryder's light armor is, which leaves the mercenary fuming in an indignant rage.
Later on, Kryska meets with Kayto on the Sunrider's refurbished and upgraded bridge, reporting on the Alliance's victory in securing the Helion system with the remaining PACT ships retreating to Ryuvia, and that PACT's forces have effectively split in two - Fontana and his faction have congregated on Ryuvia Prime as their central bastion, while the forces remaining loyal to Arcadius have condensed at Cera. Kayto concludes from this that Arcadius, shaken by Fontana's betrayal and the splintering of PACT, has given up on conquering the Neutral Rim and the Alliance and is now focused on gathering up forces for a purely defensive war, shifting priorities from conquest to survival. Kryska confidently boasts that Arcadius' downfall and PACT's fragmenting state were the natural conclusions of the war, regarding them as having been foolish to even challenge the Alliance - or the Sunrider for that matter. She also notes that the Alliance has successfully secured the Paradox Core after Fontana's attempt to scuttle it failed, and that Admiral Grey, who is personally touring the superweapon, has asked to meet with Kayto.
Admiral Grey's decision to destroy the Paradox Core - showing that even he realizes the weapon is too dangerous to leave a pre-existing version available for PACT to recapture - serves as a benchmark moment for Kryska, overjoyed by the Admiral's moral integrity in wiping out the doomsday device. She also uses this to work toward convincing Kayto that, in spite of any prior disagreements with him that the Captain might have had, Grey is indeed the one best suited to leading the Alliance. Kayto in turn reminds her that the war isn't over yet, but nonetheless thanks her for her dedication and for having been at his side on Ongess, admitting that he owes her his life. Kryska thanks Kayto for this, confessing that she likes being aboard the Sunrider in spite of the notable differences to an Alliance ship - a lack of discipline among the crew being foremost - as they feel like friends or even family, and that this has become her reason for serving on the ship more-so then even her duty as Alliance Liaison.
Later on, Kryska has dinner with Icari in the mess hall, prompting a curious Kayto to sarcastically remark that Hell must have frozen over for the two to be getting along so well. Icari tries to claim it as nothing more then a talk about strategy, but Kryska rather innocently questions about how Icari was earlier talking about having a cat-picture collection, which embarrasses Icari and causes Kayto to burst out laughing. Upon finally calming down, Kayto admits that Icari had been right in the end about their needing the Alliance, much to Kryska's satisfaction, and also remarks that he is glad Icari made a friend, noting that her overall mood has improved. Icari sarcastically replies Kayto is one to talk as his depressed mood prior to the Second Battle of Helion has all but evaporated, citing that she'd had no reason to be worried about Kayto after all as he just needed his "favorite" to reassure him. Kayto in turn catches her off-guard by noting she slipped up and confessed she was concerned for him, causing a flustered Icari to claim she only meant she wouldn't entrust her Phoenix to someone who was on the verge of a nervous breakdown.
When Kayto asks about the "favorite", Icari retorts that it's hardly a secret that Chigara's gotten close to him, revealing that Claude has set up a betting circle on the two getting together, with Kryska becoming nervous as Icari's words implicate her having been in on it and warning the mercenary that Ava would be furious if she found. Kayto jokes that making bets on the affairs of a superior officer might be seen as grounds for a court martial, but this unintentionally leaves Kryska despondent at the prospect that her military record might become tarnished by this, with Icari trying to cheer her up while Kayto excuses himself before he can potentially say anything else to worsen her mood as Kryska starts complaining she feels sick.
Some time later, it is revealed that, should Kayto have succeeded in capturing Cosette Cosmos at the Second Battle of Helion, that Kryska has decided to use her experience with Heavy Bombardment-Type Ryders to refurbish and repair the near-totaled Havoc after Asaga nearly destroyed it, hoping to add it to the Sunrider's still-undermanned compliment of Ryders. This is supported by Icari, who shares the belief that tools should be utilized wherever they come from if it means victory. Kryska therefore issues orders to the Sunrider's hangar crew to begin restoring the Ryder to operational status, keeping Icari on as an on-hands consultant about how to work with the Havoc's many black-market upgrades, the mercenary being far more experienced in non-regulation Ryder components then Kryska. However, Ava, disgusted when she finds out that Kayto signed off on this - unwittingly at that - berates them for trying to restore and utilize a Ryder that is directly associated with multiple acts of mass murder, including the deaths of several of the Sunrider's own crewmembers, remarking she finds Kryska's idea to repurpose the machine beyond deplorable. Ava wishes to have the machine scrapped entirely, but in the end the decision on whether to continue refurbishing the Havoc or abandoning it for salvage is left to Kayto.
When the Sunrider, still under repairs, is caught in an ion storm field, they find themselves ambushed by a PACT fleet hidden in the storm being led by a Prototype, the latter's ships re-tooled to function in the ion field as cover to close the distance. Kayto ultimately ends up relying on the Sunrider's own suspected-Prototype - Chigara - to counter them, having her single-handedly try to reprogram and adapt the missile-bays and targeting systems to function in the ion storm. In the end, Chigara manages to succeed, earning the praise of Kryska and the rest of the ship - and unbeknownst to Kryska, the embitterment of Asaga.
In further material and teasers for the game, it was also teased that the truth of Arcadius' identity would also divide emotions between the Sunrider crew, as well as about how the war with PACT themselves will change now that the bloodthirsty tyrant who started the war no longer stands as the faction's sole leader.
Personality & Traits
[
]
Kryska's personality closely matches her outward appearance - tough, tomboyish and up-front. She is typically calm, organized, disciplined and patient, always respectful of both her superior officers or of regulations and codes of conduct, making her a top candidate for liaison missions to ships like the Sunrider. She always is on-time with her shifts and diligent with her work-reports and is arguably the fastest to report to duty, as evidenced in the Novelization by how, when Ava called the crew awake on the last day of shore-leave, Kryska was the first to respond and was already in full military dress while the others had not even changed out of their pajamas. Having served the majority of her life in the Alliance military, Kryska is very physically fit, able to quickly take on and kill opponents larger then herself discreetly and with ease and to lock arms with professional assassins like Icari in a roughly-even match-up. She is likely very well informed on every military regulation and standard of upkeep in existence, and her extensive training in Black-Ops missions have likely versed her on wet-work skills such as data acquisition, interrogation, infiltration and a multitude of firearms and weapons ranging from rifles, pistols, SMG's and RPG's to knives and garroting wires. She also seems to have been given extensive training in Ryder piloting and in managing heavy armaments, as she was selected to pilot one of the limited-production heavy-assault anti-ship Ryders in limited-production by the Alliance.
One thing undoubtable about Kryska is that she is deeply loyal to the Alliance and it's doctrines, having had an ingrained belief in their values ever since she was rescued from a life of poverty and despair when they liberated her homeworld from it's oppressive government. Kryska was inspired to share the same hope and freedom she had been given by the Alliance to every other civilization and struggling life in the Neutral Rim, devoting herself to it's cause. Those beliefs - equality in opportunity and treatment - likely instilled Kryska's stern views of what makes right and wrong, with lawlessness, piracy and revolt being against her beliefs. She respects fairness and honesty, though at the same time knows that sometimes there are things best left concealed for the moment so as not to cause unneeded chaos or conflict. Kryska therefore tends to approach things with an analytical eye regarding how much of an issue it will be to earn the trust of new comrades, or in reviewing the actions of enemies like Cosette. She is willing to ascribe to war-logic and the methodology that sometimes sacrifices and hard choices are unavoidable in conflict, and, while able to mourn those who she feels should have had a better fate, she ultimately decides to let their deaths galvanize her desire to make sure as few people as possible share the same end. Her unflinching loyalty to Alliance rules, coupled with her bravery and steadfastness in battle - and her ability to hold down alcohol when on shore-leave - has thus earned her the nickname of "the Stonewall" among her peers.
However, Kryska's loyalty to the Alliance reaches the point of potential naivety, as she is so faithful to it that she doesn't seem to consider the idea of political agendas dictating some of it's choices or goals, as shown by how she never considers how the situation on Ongess may only be so large an effort due to how tactically valuable Ongess is. When confronted with such things, or the idea that many people value independence over what the Alliance can give, it often stymies Kryska and leaves her unable to immediately provide an answer to the question. On the other hand, it can be speculated that, instead of being purely naive, Kryska feels an immense debt of gratitude to the Alliance for having uplifted her from her destitute life as a child and as such overlooks the potential for abuse of power within the Alliance in favor of promoting all the good they have done. Whether it be that she cannot see corruption or how it could take root, or simply does not wish to see it, the fact of the matter is that Kryska's loyalty, and perhaps her sense of debt, to the Alliance seems to overrule any doubts in it. She sees the actions of people like Cosette and the leaders of PACT as simply promoting war and conflict, regardless of the cause they wish to paint themselves as supportive of.
In spite of her strict professionalism on-duty and her close adherence to the rules, Kryska is still more capable of letting herself relax and openly expressing herself then someone like, say, Ava, and more willing to smile and laugh openly then the latter. Her early life being spent living and working as part of a cohesive unit in Alliance crew's has helped make Kryska very self-confident and outgoing, never hesitating to speak her mind even as she always asks permission to do so, effectively being a model soldier without being completely absorbed in her work to the point of stoicism like Ava. During the Sunrider's shore leave, she was able to express many moments of dry sarcasm and bemusement, and even join in on more frivolous things such as teasing, as proven when she joined in on Claude's jabs at Icari over the latter supposedly being intimidated by Claude's over-developed figure. She was also willing to play around more physically when off-duty, chasing and roughhousing with Icari in grappling matches, and while she would voice discontent with more inappropriate games such as strip-poker, she would still participate - if only to prove that she was not afraid to do so. At the same time, she also holds her performance record in high-regard much as Ava does, possibly being an over-achiever due to her desire to always please and benefit the Alliance, and she holds this aspect in high esteem - to the point that she nearly started crying when Kayto and Icari tried to make a light-hearted joke about writing her up for inappropriate conduct when Kryska got involved in a betting pool regarding whether Kayto would become intimate with Chigara, terrified of having a negative strike placed on her military record.
One facet of Kryska's personality that has not been diffused by her military life - or perhaps has actually been empowered by it - is her sense of pride, both in herself and what she does. She seems confident in her physical health and has little reservation about sharing a shower with another person, such as Icari after the Second Battle of Helion, likely due to the military holding communal showers. However, she is very easily aggravated by disrespectful comments about her personality or her figure, and is especially irritated by anything that downplays the Alliance, her superiors or her own adherence to Alliance law. Icari often uses this to superior effect, as the latter's sarcastic streak grinds against Kryska's temperament on a regular basis. Her pride also makes Kryska often feel as though she knows best for a situation and take initiative in matters that she may not have authority over, such as when she tried to have Icari's Phoenix grounded due to it violating Alliance regulations, even though an independent ship like the Sunrider would not necessarily be subject to Alliance law. It also makes her prone to taking high-risk strategies, banking on her skills and her Ryder being enough to stop the enemy to the point of being overconfident, as shown by how she persisted in facing PACT forces at Far Port with the stated intent of gunning every last one down.
At the same time though, Kryska is capable of admitting to making mistakes and feeling guilt for her actions, and seems to have a far easier time letting go of grudges, as illustrated by how quickly and easily she was able and willing to entrust her life to the Sunrider crew even after they had caught her trying to steal secure data from the ship's databases. Even those Kryska has no reason to trust or cooperate with - such as Icari after she placed a gun to Kryska's head in the Novel - will be entrusted her life in the field of battle, placing a higher priority on cooperation and unit cohesiveness then her own pride, and she also didn't hesitate to place Icari's life as priority when there was no guarantee Icari would have done so if their positions were reversed, given the latter's skepticism of Kryska. She also seems to easily blame herself for her comrades being injured on her watch, as well as shouldering guilt for events outside her control if she was responsible for people getting caught in it, proven by how she blamed herself for Kayto's injuries and captivity under Cosette at Ongess even though she had no way of knowing Cosette was there or after them.
Kryska's harsh life as a child under a dictatorship has given her a deep sympathy for young and suffering lives, making it easy for her to empathize with homeless or destitute children such as Kyoko. This also makes her apt to not suspect that they might betray her honest feelings or that they may be part of the wrong side, wanting to offer those lives the same happiness she was given by the Alliance. Having been given hope and freedom from a life of misery, she wishes to extend the same offer to other children, even though she does not always consider the fact that she is hardly offering a choice so much as a sole alternative, and doesn't understand the concept of why anyone would turn away from such an offer.
Kryska has rarely, if ever, been seen in an emotionally-vulnerable state - a testament to her Alliance Spec-Ops training having hardened her heart and mind. She does not show any overt fear of death and is more then willing to sacrifice her life even for relative strangers, as shown in the Novel by how she was willing to die by being left behind at Far Port in order to ensure Icari could return to the Sunrider before they pull out. However, this does not mean she is immune to fear, as in the Novelization she began to cry in frustration and dismay at the thought of Cosette slowly slicing off her legs at the knees with a combat-knife. Due to Kryska's previously-stated lack of fear in the face of death, it is more likely that Kryska's biggest fear is being left helpless and unable to defend herself against a threat - after having spent her early years in powerlessness against her oppressive government as she and her family lived their lives in perpetual terror, it is possible that Kryska's one true fear is to be rendered as powerless as she was in her childhood. Being unable to do a thing to change her fate or fight back against someone oppressing her - being unable to have a chance to fight back and be restrained and helpless - is likely the thing that scares Kryska the most, and being unable to stop Cosette from moving to slice off her legs would be a perfect example of this.
As there is no indication of how long the Alliance has had it's crews segregated into single-sex groups per-ship, it is possible that Kryska has spent her entire life in the military serving with crewmembers the same gender as her - something which Ava in the Novelization suggested might have helped make Kryska possibly bisexual, if not outright homosexual. Kryska has not denied the allegations when Claude questioned her on whether such fraternization did or didn't happen on an all-female ship, and while Icari has always vehemently denied - perhaps too strongly - Claude's assertions that Icari is attracted to Kryska, Kryska herself has not shown or voiced any objection or distaste with the idea of such a relationship, even in the face of her constant petty arguments with the mercenary. Although, given how seriously Kryska takes her duties it is unlikely she would choose to pursue a relationship in the midst of a war with PACT, though it is not impossible.
Overall, Kryska is a strong-willed and disciplined girl with faith in her cause and in the good virtues it promotes in theory, loyal to a fault and supportive to the point of naïveté.
Relationships
[
]
Admiral Harold Grey - As her commanding officer in the Solar Alliance and one of her effective mentors, Kryska holds nothing but the utmost respect for the Admiral, seeming to almost idolize him as a representation of everything she strives to become in the Alliance military, and in return he named her his personal liaison to the Sunrider and referred to her as one of his personal military advisors. Her faith in him is such that she would defend against accusations against his character even from people who would have first-hand experience in knowing otherwise such as Icari. She staunchly defends him as someone who is best suited for repairing the damage done to the Neutral Rim worlds, like Ongess, by decades of abuse and neglect by the New Empire and by the warmongering of PACT. However, it is unknown at the moment how the Admiral's threatening of the planet's inhabitants to drive PACT away from Ongess may have affected Kryska's view of the Admiral, or if it has at all if she opted to see the act as a necessary bluff in order to ensure victory. Her faith in the Admiral is reaffirmed when he decides to destroy the Paradox Core instead of use it against PACT, finding it admirable that the Admiral would rather win the war in a more conventional and honorable way then simply slaughtering them all without pause like he could have if he retained possession of the doomsday weapon.

Icari Isidolde - Kryska's relationship with the mercenary-turned-wingmate is equal parts a friendly rivalry and begrudging friendship. Icari is largely sarcastic, against authority and believes the only thing that makes the world go forward is the flow of money, all of which are stark opposites to Kryska's no-joking-on-duty policy, respect for authority figures and strong sense of personal honor. Kryska's long-range bombardment and heavy-armor approach to fighting with her Paladin is a direct opposite to the melee-centric high-mobility Phoenix of Icari, which ironically allows them to compliment each-other well on the battlefield by compensating for each-other's combat deficiencies - though it does nothing to stop them criticizing each-other's style of combat and armament. In spite of Icari's constant criticism and suspicions of her, Kryska was willing to forgo a personal vendetta and place her life in Icari's hands immediately at the Battle of Far Port, even though the latter had detained her - and in the Novel, had brandished a gun to her head.
At the same time though, Kryska is often put off by Icari's lack of adherence to regulations or restrictions, seeing herself as Icari's superior officer and looking down on the mercenary as a risk-taker with too large an ego to see the danger she may be potentially placing others in - although this can also speak to a simple desire to ensure the mercenary's safety. She seemed comfortable enough being smug or prideful in front of Icari in moments where she had saved the other's life, and was not above teasing her at times about a lack of "armor" - likely a pun for muscle-mass - and was willing to spar or roughhouse with Icari in a semi-friendly, if not competitive manner. The two also share a habit of regarding each-other by somewhat derivative titles, with Kryska often referring to Icari as just "the Mercenary" to counter Icari's "Soldier Boy" quips.
It is also often insinuated - mostly by Claude Triello - that in spite of their rivalry, or perhaps even because of it, Icari and Kryska ought to become a couple and are already on the path to becoming such. While Icari has voiced abject denial on such a thing being possible, Kryska has never once displayed overt distaste over the idea or even objected to it in a noteworthy manner, if at all, though at the same time she has not voiced any encouragement to pursue it. The two later become close enough that Icari starts to show a more openly warm and feminine side of herself that she hasn't shown to anyone else, though the mercenary refuses any claim of this being done out of romantic desire as opposed to just being more comfortable around Kryska in general.

Ava Crescentia - Kryska's interactions with the Sunrider's XO have typically been professional - strategy meetings and coordination with Alliance forces - with their only non-duty encounter being when Kryska tried to urge a drunken Ava not to intoxicate herself further during their shore-leave. Both have proactive and strict attitudes to their work, placing military directives, duty and situational necessity for the long-term goal over most immediate moral concerns. Both are willing to ascribe to war-time logic, and both, while able to feel remorse for the deaths, use their feelings as a way to further commit themselves toward taking their enemies down. Their shared drive to defeat PACT and the way both of them have effectively built their lives around military standards allowed them to likely form a strong mutual respect for each-other.
However, Kryska is not quite as dependent on her work schedule as Ava, not only able to relax and be open at times but also not opposed to fraternizing or relationships between crew-members unless it severely hinders one's ability to perform tasks - something that allows Kryska to possibly see things from a more grounded perspective then Ava, as shown in how Kryska, in spite of being more easygoing on shore-leave then Ava, didn't become heavily drunk like the commander did. At the same time though, Ava's inflexibility toward recreational activities likely does not stop Kryska from respecting the immense workload Ava ploughs through every day as the Sunrider's Second-In-Command or the dedication Ava has to her job, and Ava is possibly the person Kryska respects the most out of the Sunrider's crew, next to the Captain and Icari. She is also, surprisingly, much more apt to use a war-logic method of approach then Ava is in terms of using the enemy's technology and weapons against them, as proven in the Liberation Day beta when she requested Cosette Cosmos' severely-damaged Havoc - provided Kayto made the necessary choices that led to Cosette's capture - be repurposed for the Sunrider's Ryder own compliment, seeing the Ryder as merely a tool they could use in combat, as well as a desire to have the Havoc's reputation as a weapon rewritten into an instrument of justice whereas Ava refused to see the Havoc as anything but a piece of Cosette's murderous legend and desiring it to be destroyed.

Kayto Shields - Kryska has displayed a high degree of respect for Kayto's leadership skills and strategic capabilities as well as his unorthodox style of engaging enemies. She regards him as an affable man who's record of victories against PACT speaks for itself about his abilities. However, it was likely she did not immediately trust his character due to the Sunrider being an independent ship from the Alliance, though Kayto's actions and his willingness to treat her as an equal in spite of her background as an Alliance soldier and possible Spec-Ops resonated with Kryska's core beliefs in equality and fair opportunity for all - the very same virtues the Alliance promoted that made her join them when she was young. As such, it is possible that Kryska sees Kayto as someone who embodies the goodwill the Alliance's doctrines are meant to enforce, and that she wishes to have Kayto support the Alliance as she believes it already follows those mandates, and thus did not understand why Kayto would have doubts in the Aliiance's administration, caring about Kayto's views on the Alliance enough to invite him to the Ongess colonies to try and assuage any doubts in the Alliance's intents.
As a fellow native of the Neutral Rim, it's likely that Kryska also respects Kayto's strong sense of independence, and she worked to try and relieve Kayto's fears for his homeworld of Cera being overturned by the Alliance. During their shared captivity at the hands of Cosette Cosmos, it is likely that Kryska came to respect Kayto even further, as, even in a situation she herself despised - being trapped and powerless - he remained calm and reassured her to do the same, with the two promptly risking their lives for each-other several times during their eventual rescue from Cosette. By the time of the Second Battle of Helion, Kryska was unequivocally proud and happy to be Kayto's subordinate, likely loyal to him almost as much as she was to Admiral Grey himself.

Cosette Cosmos - There is an indisputable and, most likely, very much mutual scorn between Kryska and the self-styled "Pirate Queen" Cosette. Kryska's opinion of Cosette is that of a bitter, power-hungry, bloodthirsty murderer who uses the people of Ongess' supposed oppression as a convenient excuse to justify her rampages and warmongering. Ironically, both share a similar past of having been born on abusive and oppressive worlds, but the key difference was that Cosette never found any salvation aside from learning how to kill to survive - as such, the two can be considered twisted reflections of each-other. While Kryska can normally respect fighting for the sake of others, she is convinced that Cosette only makes this claim so that she can feign being justified in murder, holding marked distain for Cosette's ruthless and sadistic methods. In Kryska's mind, Cosette is nothing more then a cancer that must be removed, as no peace can ever be maintained so long as she lives since the pirate leader is seemingly incapable of letting go of her old grudges.

Asaga Oakrun - While they have not been seen directly interacting, Kryska, like Ava in the beginning, likely did not start out with or have a high tolerance or differential respect for the exuberant and quirky CAG of the Sunrider's Ryder pilots, as evidenced by how Kryska had bypassed Asaga's council on Ryder management when trying to have Icari's Phoenix impounded for violating Alliance safety precautions - a category that Asaga's Black Jack, independently made from scratch out of non-standard or custom parts by Chigara, likely falls into as well. However, it is just as likely that Asaga's immense skill in piloting a Ryder has won Kryska's firm respect, as has the fact that she is Ryuvian royalty fighting for the liberation of her home. In addition, due to her more tomboyish nature, it is unlikely that Kryska would have as big an issue with Asaga's energetic demeanor as someone like Ava would. Like the other Ryder pilots, Kryska was more then willing to place her life in Asaga's hands when in combat, and continues to do so.

Chigara Lynn Ashada - Kryska has not had many interactions with the Sunrider's Chief Engineer, but it is likely that she has a high respect for Chigara's genius-level intellect and technological aptitude, as well as her soft-spoken and generally friendly personality. Though they do not have much in the way of compatible personalities - Kryska being disciplined, professional and very self-confident with Chigara being shy and withdrawn - they have a working comradeship as fellow Ryder pilots fighting to bring peace to the galaxy. It can be assumed that Kryska respects Chigara's more simple desires and life-goals, such as wanting to open a bakery when the war is over, though might also believe that someone with Chigara's level of intelligence should feel obligated to work towards bettering all of the galaxy with her gifts and abilities the same Kryska herself has, and, while respecting such a simple want, may not necessarily understand or agree with it.

Claude Triello - Kryska's interactions with the Sunrider's de-facto Medical Officer are few and far between to date, but they likely do not often associate due to how starkly different their approaches to their jobs and lives in general are are, as Claude's general laziness and lack of seriousness is very much the opposite of Kryska's organized and proactive mentality. However, when off-duty, Kryska is able to approach Claude more easily then Ava can, and her generally tomboyish personality make it somewhat easier for the two to get along amicably by rolling with Claude's quips without losing her temper or feeding into it. While she shows marked distaste in Claude's extreme lewdness, she isn't above joining in at times - such as during the "doctor's" propertied game of strip-poker among the crew - if only to show Claude and the rest that she has nothing to be ashamed of when compared to the other female members of the crew. When on duty as Sunrider's liaison, Kryska is likely less tolerant of Claude's procrastination in filling out forms and perfoming duties. However, it is also worth noting that, for all the times Claude has tried to push the idea that Icari likes Kryska, the Lieutenant has never gone out of the way to correct or deny Claude's assertions as being true, nor has she protested to the idea of being in a relationship with Icari, instead seeming to simply let the doctor's comments bounce off of her.

Sola vi Ryuvia - Sola's quiet nature has not allowed her to have much interaction with any member of the crew, Kryska included, but it can be assumed that Sola's cold professionalism and clear focus both in battle and in shipboard tasks has earned Kryska's respect. Sola's introversion however might be seen as standoffish to Kryska, as, having served in the Alliance for so long, Kryska is likely unused to seeing a "lone wolf in the pack" as it were instead of a completely integrated cooperative unit. However, she has not confronted Sola on this, likely due to the fact that Sola's self-imposed isolation from socializing with the rest of the crew has not affected her performance in battle or her ability to cooperate effectively with her comrades. However, some of the actions Sola is described taking in the Novelization - such as shooting off rounds over the shoulders of her fellow riders closely enough to burn a layer of paint off - could potentially be seen as irresponsible by Kryska.

Veniczar B. Fontana - Having faced his forces at Ongess and at Helion, Fontana is likely one of the few opponents that Kryska can derive some respect for. Ironically, Fontana is effectively her PACT equivalent as both had lived horrid lives under their oppressive home-governments until their respective powers liberated their worlds and gave them a cause to live and die for. Like Kryska, Fontana fights believing that he is spreading human equality to others by inducting them into PACT, meaning that Kryska could potentially see him as a good person who is "tragically misguided" in following a side that monopolizes claims of independence rather then actually following them through like she believes the Alliance does. Fontana being able to recognize his leader as a tyrannical monster and turning on him has likely earned respect from Kryska, but without changing the fact that he is still an enemy now in control of a faction that currently holds many neutral worlds under it's banner still.

Veniczar S. Arcadius - As the man who has started war with the Alliance, ruthlessly conquered dozens, if not hundreds of worlds and authorized scorched-earth campaigns that destroyed millions of innocent lives such as at Cera, Arcadius is likely someone who Kryska holds undiluted resentment and hate for, claiming to stand for all the things she feels the Alliance does and slandering the Alliance by saying they only represent greed and depravity. Potentially seeing him as just a madman and despot who would stop at nothing to get total iron-fisted control of the galaxy, it goes without saying that Kryska would not - and did not - shed any tears at his death.

Kyoko - While having only met the young child briefly, it is likely that Kryska emphasized with Kyoko's destitute situation after having lived a similar state herself once upon a time. This same sympathy played a large role in how Kryska never believed anyone would turn down the Alliance's offer since the Alliance's was, in her opinion, more sincere then the pirates. It is not known how witnessing Kyoko's accidental death at the hands of Alliance marines has affected Kryska, but she likely has opted to see it as a tragic mistake that cannot be taken back now, possibly shouldering grief and sadness at the time at how she couldn't give the girl a better chance at life like she herself had gotten.

Kryska's Family - Kryska's mother and father had lived their lives in oppression with their daughter for her first years of life. It is not known if they survived to see their world liberated - only that Kryska left her world behind afterwords to join the Alliance. Kryska likely cared for them very much, and if they did indeed survive to see their world freed, she would owe the Alliance their freedom as well as her own.